Pakistani Paintings
Art lovers who buy Pakistani paintings base their decision of buying Pakistani art on an emotional feeling towards its cultural richness. Pakistani painters paint their own culture on canvas showing creativity and a deep love of being a Pakistani artisan. Art buyers feel comfortable and have a deep attachment that justifies their purchase of Pakistani paintings.
Every style of painting whether it is abstract, calligraphy, figurative, landscape, or miniature is provided by Pakistani painting museums and shops. Every painting reflects its colorful culture and is a piece of Pakistani heritage. Not only are these paintings a wonderful series of creativity by the artist, but they are also vital for promoting the Pakistani culture wherever these beautiful paintings are displayed.
The selling of authentic Pakistani paintings is done through the Karachi Pakistani Painting Gallery however, it is also possible to purchase through a wide range of museums and other painting galleries alike:
A great list of Pakistani Arts Galleries where you can buy Pakistani paintings:
Abasin Arts Council, Peshawar
Anarkali tomb Museum, Lahore
Alhamra Arts Council, Lahore
Faisalabad Arts Council, Faisalabad
Fakir Khana, Lahore
Mohatta Palace, Karachi
Multan Arts Council, Multan
National Art Gallery, Islamabad
Pakistan Arts Council, Karachi
Chwkandi Art Gallery Karachi
Rawalpindi Arts Council, Rawalpindi
Vogue Art Gallery, Lahore
Brief History of Pakistani Paintings
Pakistan has a great and vast history in the art of painting. and the enormous list of Pakistani paintings is the evidence that speaks for itself. If you have a glimpse of Painting Art's history in Pakistan, we see that it was imitated between the middle of the 20th century and the beginning of the 1990s after United India, when Pakistan gained its independent state.
Today paintings and sculptures, as expressions of an increasingly sophisticated urban society, have made tremendous progress.
Urdu calligraphy and its ideas are also well known in the world of art. It is also the part of Islamic ideology and the position of Arabic and Persian writing forms. Calligraphers in Pakistan got a famous approach in extraordinary calligraphy. Some influential names are Ahmed Khan, Asghar Ali, Bukhari, Bin Qulander.
Famous Pakistani Painters
Syed Sadequain Ahmed Naqvi
One of the well-known art painters is Syed Sadequain Ahmed Naqvi (1923 – 1987). He is one of the legends in Pakistani painting art has received almost all the top-ranked awards.
Tamgha-e-Imtiaz
Pride of Performance
Sitara-e- Imtiaz
His paintings are shown at national and international galleries.
Ismail Gulgee
The self-taught painter Ismail Gulgee (1926 – 2007).
Awards:
Pride of Performance
Sitara-e-Imtiaz
Hilal-e-Imtiaz
Islamic paintings, simple paintings and sculptures are part of his work.
Abdur Rahman Chughtai
Abdur Rahman Chughtai (1897 – 1975) was next to a painter artist an intellectual person as well. The Chugtai style of painting is the new-born style of Pakistan art.
Awards:
Hilal-e-Imtiaz (Crescent of Excellence)
Pride of Performance awarded by the President of Pakistan
Khan Bahadur (British Empire)
Jamil Naqash
Jamil Naqash was a British painter who lived in Pakistan, but later after his retirement, he went to London to live his remaining life. His work was sensual.
Anna Molka Ahmed
Anna Molka Ahmed (1917 – 1994) was the pioneer of the fine arts. One of her peculiars was that she was converted to Islam.
Pride of Performance awarded by the President of Pakistan
Khadija Tul Kubra Medal
Ahmed Pervaiz
Ahmed Pervaiz (1926 – 1979) was the founder of modern painting in Pakistan. He made solo exhibitions. He is undoubtedly Pakistani's most exhibited painter abroad.
Salima Hashmi
Salima Hashmi, daughter of the most famous poet of all time Faiz Ahmad, is a great painter artist and has been the professor and dean of the National Arts academy.
Awards:
She also wrote the book "Unveiling of Visible."
Shazia Sikander
Shazia Sikander was born in 1969 and is well known for Visual (Painting) and contemporary art. Sikander works across various mediums, including drawing, painting, printmaking, animation, installation, performance, and video. She is well acknowledged with the techniques of Persian and the Mughal Miniatures.
These Pakistani Painter artists, both men, and women were and still are incredible artistic and prove that the art of painting is all about creativity.
Famous Paintings in Pakistan
Sadequain Mural – Quest for Knowledge
Sadequain Mural – Quest for Knowledge is the most remarkable paintings by Syed Sadequain Ahmed Naqvi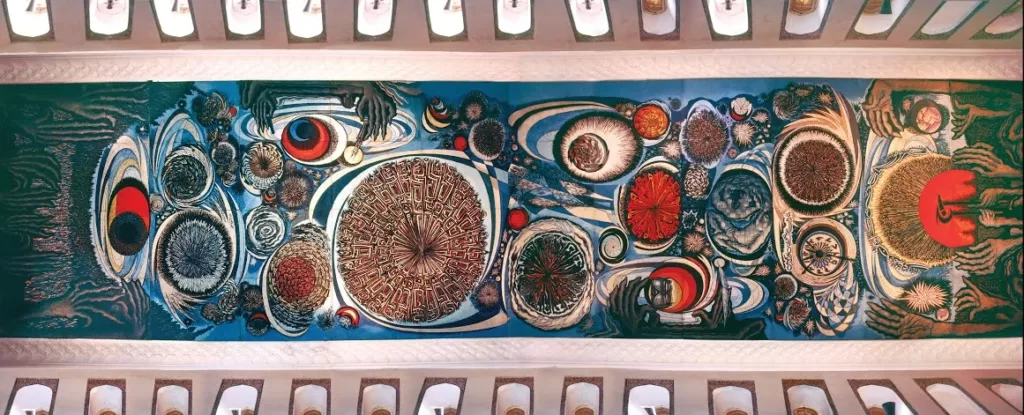 The painting, titled 'Treasures of Time,' shows humankind's intellectual progress from the time of Socrates to Iqbal. The painting shows various scholars, intellectuals, thinkers, and scientists from different eras and is also painted by Syed Sadequain Ahmed Naqvi.
One of the greatest artists in Fine arts
Pakistani Painting Art focuses on the culture of Pakistan and also shows the economic and social routine of life. That's why this picture portraits many meanings.
Scope of Paintings in Pakistan
Pakistani painters are encouraged in their work by the possibility to receive priceless awards. This resulted in a wide scope of variety in paintings. Due to this variety, many of these paintings are shown in the frontline where buyers are competing to purchase pieces of art "The Pride of Performance and the "National Award of Excellence" are granted by the Islamic Republic of Pakistan.
One of the most significant awards, "Sitara-e-Imitiaz," is given to legendary painters such as Sadequain and Saeed Akhtar. Painting Art gallery Islamabad is the platform to boost up one's Painting Art.
Learn Painting Art
Painting Art is being checked or given importance, and major institutions are working on teaching Painting Art to the person who is willing to learn the craft. Here are some top schools in Pakistan who teach Painting Art:
Beaconhouse National University (Lahore)
Pakistan Institute of fashion designing (Lahore)
Asian Institute of fashion designing (Karachi)
Indus Valley School of Art and architecture (Karachi)
A national child exhibition is held each year. At school, college, and university level competitions are held each year. Each Year pictorial exhibitions are held, displaying folk heritage, traditional architecture, and daily life.
City of Painting Art in Pakistan
The Painting art gallery in Islamabad is the greatest in Pakistan. Significant kinds of skills, crafts of all interest are found here for art fans.
Multan, The City of Saints, is a city located in Punjab, Pakistan. It shares the Bank of the Chenab River. Multan is Pakistan's 7th largest city and in the major cultural center of Punjab. It is an ancient city, and it was renowned in the past.
Karachi is also famous for its paintings and decoration of Pakistani truck's floral designs and calligraphy.
Lahore is a prominent significant cause of mean and top national painting art academies. It is the center of painting art academies. Most students come here to learn the painting arts and show up their talent.
Faisalabad also keeps some importance because of clothes designing and fashion designing. The ruins of Mohenjo-Daro is the evidence itself. The cultural paintings and the cultural designs are part of Pakistani Paintings Art, and people are more interested in artistic creations such as Balochi design, Punjabi design, Sindhi design.
Women in Pakistani Painting Art
Females also participated in the prosperity of Pakistan's Painting Art and culture. Some prominent names are Salima Hashmi, Zubeida Agha, Anna Molka Ahmed, Shazia Sikander, Huma Mulji, Adeela Suleman, Aisha Khalid, and Saira Waseem.
Anna Molka Ahmad founded the fine arts in Pakistan first.
Laila Shahzada was an abstract artist. In short, in Pakistan's Painting Art development, Pakistan women didn't remain behind. They worked together with men and now have been encouraged.
Museums of Pakistan
There are many Painting Art Museums in Pakistan.
But the Islamabad national painting art Museum is the most important.
It is Pakistan's first Painting art gallery. It opened to the public on Sunday, August 26, 2007. Lahore Museum is also worth praising museum.
It has already been there in Pakistan since the British colonial times.
From those times, it is the most visiting and famous museum. State Bank of Pakistan museum and Painting art Gallery is the unique one.
It is in the building which was the Imperial Bank of India before.
One of the Pakistani culture-related museums is in Islamabad, known as Lok Virsa Heritage Museum. It is now being administrated by the National Institute of folk and traditional heritage.
The daily routine life of Pakistani culture is shown here in statues, pictures, pottery, and music.
Cultural Paintings of Pakistan
Pakistan's whole culture lies in Punjab, Sindh, Balochistan, and KPK. The cultures of these provinces are the culture of Pakistan. Punjab culture reflects the Indian culture the most. Paintings of the feast in the village, the green fields, the marriage, Punjabi and Saraiki dances are the symbol of Pakistani culture, and their paintings are based on it.
The Sindh culture is essential because it is based on the Indus valley civilization. Thar desert and the craft on pots tell its society. Moreover, Ajrak is the symbol of the Sindh civilization. Besides, Bedsheets, handkerchiefs, shawls, cushions are designed by this artistic and painting design.
Balochi culture is more related to Afghanistan culture. So, the Balochi dress keeps its importance. Ajrak style is printed and painted on the clothes. Balochi dress is famous all over the world because it is a unique style. However, their tribal hairstyles are also a part of cultural paintings.
Truck Painting Art, a way to beautify the trucks. is exploded in Balochis tan Painting Artists use the metal sheet of the truck as a canvas to create beautiful art.
Arabian Painting Art is the style of KPK culture that is part of their paintings. Kathak dance and their photographs are now spread into the world. Pashto songs are encouraged in the
World and their dance are portraited on the canvas. Khyber gate is canvased on the paper as well. It is a symbol to show the ancient civilization of Pakistan.
Kinds of Painting in Pakistan
Some kinds of painting being in Pakistan are:
Architecture
Decorative Painting Art
Sculpture Painting
Two-dimensional Painting arts
Pakistani Painting artists are working on architecture for centuries. There are many examples of the work of Pakistanis. Badshahi Mosque, Faisal Mosque, Badshahi Castle are some artworks of the artists. Pakistani worked on the stonework most. Moreover, ancient and modern books are both the specialty of Pakistan painting. So, most Painting works were done in Mughal times. Decorating the walls was the most favorite Painting Art.
Decorative Painting Art is the most provoking Painting Art in Pakistan. Decorative Painting Art is designed on pottery, carpets, and fabrics. Different types of artistic designs are imprinted on them. These handicrafts are sometimes represented symbolically. However, work on pottery is adorable. Majorly in Punjab, work on pottery is seen. Besides, women in the village reasonably decorate pottery.
Sculpture visual art is trending nowadays. Hence, this visual Art has arisen through the Indus valley civilization. Stonework has been famous for a long time to describe history.
Two-dimensional Painting Art is done on the page or canvas. It is also done in many forms. However, painting is the most important one. Besides, a painting has got the highest rank in Art. Many artists are interested in portraits. Moreover, calligraphy is a type of two-dimensional Painting Art, and for writing purposes, it has gained more importance. Arabic, Urdu, and Persian calligraphy have attracted the folks.
In Pakistan, Painting Art is also considered in such aspects:
Fine Arts
Performing Painting Arts
Textile Painting Design
Interior Painting Designing
However, these are also given importance in Pakistan. Suppose we come towards Fine Arts. Drawing projects are the key elements. Miniature Art, sculpture, and painting are a few of the integral subdivisions of Fine arts. On the other hand, artists get environmental ideas in the form of design. Besides, they seek the attention of folks by their work. Some idea of natural elements is also required in it.
So, the market design is the main focus of the painting. It is the entrance into the field of design media. In the Pakistan market, the demand for advertising has increased the most. Moreover, this demand has encouraged skilled painters and professionals to go deep into that field. Interior painting designing is also one of the emerging areas of Painting Art.
Now it's on-trend to hire painters and to design one's houses and offices. Painter discovers new designs to cope with this problem and design one's building differently. Its scope is infinite. So, each person wants to be seen as different. As a result, each person wants a better design. Interior painting designers try to accomplish everyone's wishes. This has also approached a new level.
Give a Pakistani Painting
On August the 14th, the Pakistani celebrate the country's independence and reflect on its rich culture and history.
One of the best ways to do this is by looking at Pakistani paintings. These works of art capture the beauty of the country's landscapes and people, and they offer a glimpse into its diverse heritage.
From traditional calligraphy to modern abstractions, Pakistani painting has something for everyone. So, whether you're flying the flag on their National Day or simply enjoying a quiet moment with a cup of tea, take some time to appreciate the art of Pakistan.
Share Cultural Richness in Pakistani Paintings
Share the Cultural Richness in Pakistani Paintings with your friends and social media followers.
Summary of the Cultural Richness in Pakistani Paintings
Briefly, Pakistani Painting Art has been prioritized by the world. Its history is worth reading and enjoyable. It has well established with the help of experienced Painting Artists. It has proved itself not only nationally but also internationally. People seek the painting of Pakistani Art to beautify their houses.
And all the credit goes to the Painter artists. The famous cultural paintings of Pakistan made them incredible. However, it is the Art that is incredible, but it is the culture that is reflected in the paper. The culture of Pakistani Painting has provoked people to keen on skills.
Not only the painters worked, but the government of Pakistan has also supported them. Because the establishment of painting art museums and giving opportunities to the painters is appreciable. Not only males but females also worked in Pakistani Painting Art. They delivered a message to the world that they are not behind men in any field of life. Every type of Painting Art is the depiction of Pakistani Painter artists.
So, they took it as a challenge. Finally, they did it not only in modern times but also in the past.