Sindhi crafts are fashionable and timeless. For centuries Pakistani women artisans have designed and created Sindhi handicrafts for kids and adults using the skills they have learned from their elders. As you can see from the images below the Pakistani culture is colorful and that comes back in the dresses, suits, topis, table cloth, and bags they make.
The traditional way of Pakistani embroidery Sindhi crafts can be purchased online at various artisans' eCommerce shops.
Buying Pakistani crafts is a gift for you but especially for the one who would wear them. Your love for not only the artisans but also for the gift receiver will show.
Do not underestimate the time involved in designing these handicrafts, not to write about the love the artisans going through a lengthy process till the final product that we all love.
A product that will end up in Karachi or an online retailer for you to buy as a gift, a token, or a symbol of love perhaps.
Sindhi crafts are beautiful to see, and perfect to wear for any occasion, whether this is casual, wedding, or any other event that you want or better the recipient of this gift wants to go to. Just imagine the oohs and aahs of kids' mums when your kid is wearing a traditional Sindhi suit to a kid's party.
No matter what the purpose of wearing, carrying in the case of a bag, or laying on the table, people's eyes including your friends, are looking and might think they want that too.
Enjoy our list of 26 of the best Sindhi crafts and start shopping for a great purchase that will always be one of the favorite crafts in your, or the receivers of your Sindhi crafts gift wardrobe.
Sindhi Kids Dresses
Sindh is well known for the peculiarly remarkable hand embroidery of the fantastic mirror quality circumscribed with colorful thread known as "Sindhi-Kutch style," which is done by different styles like Khaarek, Jat, Pakoo, and Mutava.

On celebrations and special occasions, a hand embroidery dress by skillful Sindhi artisans is a perfect gift for kids.

The stylish Kurti over classic skirt gives a kid a modern traditional look, and Ajrak Kameez with Trouser can be worn anywhere.

Sindhi dresses are embroidery with a high export quality silken thread, which make it posh.

The embroidery and mirror work combination on Sindhi dresses is unique, handcrafted, and never repeated.

Sindhi embroidery designs are mostly made on bright color fabric like black and maroon with vibrant color threads like yellow, blue, green, and orange.

Mirror embroidery handwork on Ajrak print is a signature Sindhi style.

Graceful Sindhi dresses design, stitching, and embroidery are worth adoring and experiencing because it springs from the neatness of Sindhi women weaving cloth.
Sindhi Ajrak Suits
The symbol of true Sindhi culture is by Ajrak. It is a symbol of pride, honor, and respect.

It is used to gift guests to honor them and also gifted as a souvenir.

Ajrak is dyed with natural dyes like mineral dyes and vegetable dyes, not with chemical dyes.

Patterns and designs on Ajrak are made by block printing.

Ajrak block patterns have strong geometry, order, and balance.

The symmetry in repeat patterns on Ajrak is inspired by Muslim architecture.

The signature colors of Ajrak are maroon, black, and white. In the modern age, it has absorbed many colors like grey, blue, green, yellow, orange, etc.

Famous Ajrak designs are Hasha Sindhi Ajrak, Badami Sindhi Ajrak, Gulab Patti Sindhi Ajrak, Chakki Sindhi Ajrak, and Bunki Dana Sindhi Ajrak design.

It is made on lawn, cotton, khadar, and many other fabrics.

It is worn by men and women of all age groups.
Sindhi Chunri
Chunri dresses are made of pure chiffon fabric, which can be dyed to any color of choice.

Chunri is the color of hard work.

It is made by the tie and dye method by the local Sindhi artisans' team.

Chunri is dyed with vibrant natural colors like yellow, green, orange-red, and many other fresh colors.

The Chunri is made by making many numbers and sizes of small knots on fabric which is supposed to dye.

The knots area of fabric does not absorb the dye when the fabric is dyed.

In geometrical order and balance, the knots are made on the fabric to make different dots' designs.

The knot creates a negative space that does not absorb color when dyed.

After dye, the fabric is dried, and then knots are untied, which creates a beautiful pattern.

This astonishing handmade Chunri stole is worn by men and women on Mehndi. Chunri dresses are best for hip hop fashion.
Handmade Embroidered Sindhi Trousers
Handmade Embroidered Sindhi Trousers
Sindhi embroidery trousers are elegant and go with any type of shirt, top, kurta, etc.

Sindhi trousers are on plain and printed fabric both.

The notable factor of trousers is that they are covered with unique and neat hand embroidery.

Embroidery is complemented with tassels, tiny mirrors, glass beads, silver spangles, and cowries' shells.

The stitches used are satin, straight-chain, buttonhole, interlacing, couched, chain, crossed herringbone, couched straight, darning, and laid threads.

Different patterns and motifs with vibrant colors are mostly made by a chain stitch.

The fascinating elegant patterns of leaves, flower pistil, attractive hues of peacocks are used in embroidery.

Mica and mirror are embedded in design to give a shimmer and radiant touch to work.

Sindhi trousers come in elegant, simple, heavy fancy embroidery, cultural, and formal wear too.

Due to its multicolor embroidery, it can be wear with many colors of dresses.

Do not forget to have one; it will be a valuable asset to your wardrobe.
Sindhi Handmade Embroidered Suits
Sindhi Handmade Embroidered Suits
The most enjoyable part of Sindhi dresses is that they are comfy, appealing, plus never out of fashion.

The embroidery peculiarly in cotton and silk thread on either cotton or silk.

The dress's color ranges from classy blue, white, pink to vibrant sparkling shades like orange, violet, green, red, black, indigo, and turquoise.

The stitches mostly used are chain, draining fly, system, open chain, interlacing, and crossed herringbone.

Mostly cross stitch is used to decorate chain stitch, which indicates peculiar Sindhi style.

The motifs depict amusing characters like elephants, parrots, canopies, peacock, fans, arches, leaves, flowering shrub, polka dots, and flowers.

Shirts are embroidery on the neckline, sides of the shirt along the length, sleeves, and back of the shirt.

Sindhi dresses are in frocks, gowns, shirts, tops, long-tail frocks, and long kurta style.
Sindhi Susi Suits
Susi is a famous Sindhi cultural fabric. Susi is different from the other type of fabric.

Susi has thin, striped, finely woven patterns of silk or cotton.

Susi is a finely hand-woven traditional fabric of Sindh.

It is a specialty of the Sindhi artisans.

This Susi fabric is preferred by the people of all provinces.

So, several hand embroidery motifs and patterns of different colors and threads can be made on this fabric.

The women of Sindh use this fabric to stitch quality dresses.

Susi fabric is used for shawls and trousers stitching mostly.

Due to its signature stripe patterns of different colors, it can go in contrast with any color.

This fabric is famous because of its durability, metallic colors, and quality.
Sindhi Embroidery Neckline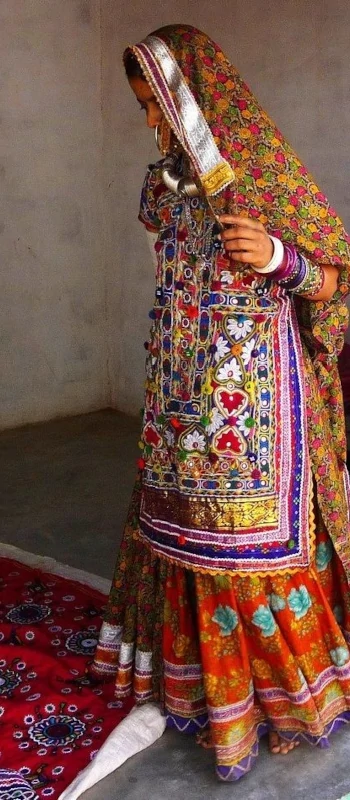 Sindhi Embroidery Neckline
Sindhi Neckline is a patch that can be embedded in any type and design of the suit.

A variety of neckline embroidery is in the market, but when it comes to designing the dress with unique and attractive motifs, the Sindhi embroidery neckline patch is in demand.

Kurtis and frocks are the most famous outfits in Asia and embroidery necklines go well with them.

The benefit of Neckline patches is that you have the choice to design the dress in your own simple or funky way; that's why creative women prefer this over fixed motif dresses because with this, they can show their own creative side too.

You can buy and paste the Sindhi neckline and sleeves embroidery patches on your own way on the dress by stitching or hot glue.

Sindhi embroidery neckline patches are mostly on cotton, woven by perfectly skilled artisans.
Sindhi Applique Dresses
Applique work is a needle and threadwork by which patches of the fabric of different sizes, shapes, and colors are sewn on a single large base fabric to form designs or patterns.

It is an ancient hand embroidery of Sindh, which requires excellent precision and accuracy because a single wrong stitch can change the whole pattern.

Applique work is mostly used for patchwork embroidery on garments, shawls, bed sheets, and pillows.

In Sindhi applique dresses, patchwork is further decorated with Sindhi mirror work and beads with chain stitches, which give it a classy look.

Patches of fabric are stitched on base fabric by running stitch, straight stitch, and satin stitch.

Different geometrical patterns, flowers, birds, leaves, and characters are made by the small pieces of fabric of different colors on the base fabric of the dress.

Mostly applique work is done around the neckline and sleeves of the dress.
Colorful Embroidered Bags for Girls
Colorful Embroidered Bags for Girls
Glaringly, colorful Embroidered Sindhi bags are different from other bags because of their durable thread embroidery.

They are made of cotton fabric,

They mostly have bright, colorful threadwork on a black fabric base.

Rectangle, triangle, and circle shapes with chain and satin stitches are beautifully created on bags in a creative pattern.

Bags are decorated with mirrors and hanging thread balls with large size colorful beads.

These bags are handmade by creative and skillful people.

You will be amazed to know that these astonishing designers belong to poor rural families.

Sindhi women and school college and university students prefer these bags to carry things instead of typical bags.

These bags come in different sizes like small bags for kids and specially designed bags for mobile and laptop holding are also available.

Medium-sized bags are best for casual use.

The amazing side of these bags is that all ages of people can carry these bags.
Sindhi Block Print Dresses
Sindhi Block Print Dresses
Block printing is done with engraved wooden blocks. It is the simplest, slowest, and most ancient method of printing on fabric.

It is a slow process, but it is worth it.

Some designs can not be obtained by any other means.

Small or medium hand-designed motifs are hand engraved on the blocks, and the design is composed of a repetitive pattern.

For the multicolor pattern, every color part is separately engraved on a woodblock and individually inked and stamped on the fabric.

Block printing is still used in traditional villages and towns of Sindh.

Block printing is in fashion these days.

Block printing is done on cotton, lawn, silk, and linen fabric, which are used to make classy and funky dresses.
Sindhi Embroidered Handmade Waistcoat
Sindhi Embroidered Handmade Waistcoat
Sindhi waistcoat is more decorated, traditional, and particularly of vibrant colors in contrast to the usual waistcoat.

You can wear a Sindhi waistcoat on traditional occasions, marriage ceremonies, celebration events, and high fashion parties.

Sindhi waistcoat embroidery with colorful cotton threads, mostly silver or golden threads, also called Tila.

Signature triangles, rectangle shapes, or flower or leaf motifs are made on waistcoats.

Sindhi waistcoat made of Ajrak printed fabric is further enhanced by mirror work and chain or satin stitches in a geometrical pattern.

Commonly waistcoat is worn with a three-piece suit, but a handmade Sindhi waistcoat is decorated and can be worn without a coat and above shalwar kameez.

The Sindhi waistcoat is so popular in Pakistan and India that it is worn at every traditional and religious festival.

You must try this Asian favorite handmade embroidery waistcoat.
Sindhi Handmade Topis
The Sindhi cap is a cylindrical or circular hat with v-shaped cuts in front of the forehead.

The Sindhi cap was initially worn by the Sindhi people, but later it is adopted by Siraiki and Balochi people.

The Sindhi topi is mostly worn by men on the Shalwar Kamiz dress code.

It has detailed and entangled geometric designs and thread embroidery of mostly dark colors such as green, red, yellow, black, and orange.

Hats are decorated with small pieces of mirrors which are sewn into them by threads.

The Sindhi cap along the Ajrak shawl is mostly given as a gift to guests because the Sindhi topi is a sign of honor and respect in Sindhi culture.

Kids and men wear Sindhi topis at religious and traditional festivals.
Hand Embroidery Sindhi Chadar
Hand Embroidery Sindhi Chadar
Chadar is a long rectangular cloth piece that is broader than the simple dupatta.

Sindhi chadar is worn by females when they go out.

Sindhi chadar has thread and mirror hand embroidery of green or red color with straight, chain, couched straight, and satin stitches.

Chaddar has hand embroidery on the borders of all four sides in a long or small repetitive pattern of flowers, leaves, plant branches, peacocks, or rectangle or triangle shapes in a balanced geometric pattern.

Small motifs are spread within the border throughout the chader in a sprinkled manner, also known as photkis.

Sindhi chaddar can be distinguished from others because of the round bails of flowers and leaves at every four corners of the chadar.

The fantastic thing is that it is entirely different from the other cultural designs.
Sindhi Quilts and Faqeeri Malangi Topi
Sindhi Quilts and Faqeeri Malangi Topi
Ralli quilts and Faqeeri Malangi Topi are made from pieces and scraps of different colors of cotton fabric.

Sindhi quilts are traditional quilts in Sindh and all over Punjab.

Sindhi women made these quilts for their families and to sell in the market.

The scraped cotton is cut into different geometric shapes such as triangles, squares, rectangles, and leaf shapes then dyed to require color, and then stitched together by hand to make a balanced geometric pattern.

Between the upper and lower quilt layer, scrap fabric or cotton is stuffed to make it thick, soft, and comfy.

The upper and lower layers are held together by an X-shaped stitches line from one corner to another corner.

Women made these quilts and topis without any frames.

These colorful quilts with admirable patterns are commonly used in each house in Pakistan and India.
Phulkari Dupatta
Phulkari or Phulkari Dupatta is a traditional thread embroidery.

It is skillfully crafted in lively colors such as green, red, orange, yellow, blue, indigo, etc.

It is an ancient technique of embroidery.

The motifs on the phulkari dupatta or shawl are inspired by natural elements, like flowers, butterflies, and leaves.

Embroidery is done on cotton, organza, and georgette fabric of bright colors such as hot pink, lemon yellow, jet black, blue, orange, red, etc.

Phulkari Dupatta is easy to carry and gives a stylish look to casual wear.

Beautiful multicolor thread embroidery designs and mirror work are skillfully and lovingly crafted by women of rural areas.

The hand-embroidered Phulkari dupatta is best for all festive and traditional events because of its attractive and bright colors and floral threadwork all over the fabric.

It is ideal with your ethnic outfit for an eye-catching appearance.
Applique Bed Sheets
Hand-made applique bed sheets are of vibrant colors, skillfully crafted by the artisans of Sindh.

Applique work on bedsheets is quite complicated and a skillful task.

Different applique styles are used on bedsheets, like smooth edge applique, raw-edge applique, reverse applique, decorative stitch applique, felt applique, and multi-needle hoop applique.

Applique of small cuts and shapes combine to form large designs in a precisely balanced way, which needs years of practice and a skillful hand.

So, only true and passionate artisans can handmade applique bedsheets because a single mistake in the angle of a small shape can destroy the whole pattern of the bedsheet.

Applique bedsheets and easy to wash and durable because they are made of cotton fabric.

Applique is done in contrast color to the color of the base fabric of the bedsheet.

Both light and dark color bedsheets are made, specially Ajrak applique bedsheets are a specialty of Sindhi crafts.
Sindhi Hand Embroidery Table Runner
Sindhi Hand Embroidery Table Runner
Sindhi table runners are astonishingly well crafted and stylish, which gives a colorful touch to your dining table and office table.

Due to its mind-blowing creative designs, it makes the table a great place to think creatively and for lighter conversations.

Table runners are made of cotton fabric and decorated with different designs such as some have applique work or thread embroidery or mirror work or a combination of all.

Table runners always have detailed patchwork. Each patch has different threadwork, block print, and color.

Borders of table runners are laced with fancy Gotta or Pearl work.

Table runner plus place mat has geometric designs of classy colors with antique patterns, and their colors do not faint after washing.

Hand-made Sindhi table runners are more fancy, beautiful, and royal than the commonly found table runners.
Sindhi Hand Embroidery Fabric Tissue Box Cover
Sindhi Hand Embroidery Fabric Tissue Box Cover
A handmade antique Sindhi tissue box cover is perfect, which you should have to give a traditional or fancy touch to your office or home table.

The finest crafted, hand-carved, unique tissue box covers are made by skillful Sindhi women artisans.

A Fabric tissue box is a unique and fascinating decorative piece.

Due to its lavish and glossy embroidery, it is the best gift to give to your loved ones on special occasions.

The tissue box is made of cotton fabric, and admirable detail work of shiny colorful silk threads plus beads, mirrors, pearls, tilla, and mawkish are craved by hand.

Sindhi fabric tissue box is well known because of its finest finishing, elegant design, and durable threadwork.

This handcraft can be a worthy addition to your home decoration because it instantly adds a good mood and creativity to you and your surroundings.
Sindhi Coffee Table Cover
Sindhi Coffee Table Cover
Fabric coffee table covers are famous in hilly areas because it gives a snug, cozy, and warm touch in a cold environment.

But now their popularity is in all regions from deserts to tropical places because it provides a traditional and natural element to your table.

Most table covers are made of plastic or leather, fabric table cover is unique and rare, and Sindhi table covers are one in a million.

To get hands-on these amazingly designed tables covers with detailed thread embroidery with no imperfections and are decorated with beads, mirrors, and pearls.

Sindhi women make table covers on a cotton fabric base with silk threadwork of multicolors.

Most table covers are in warm colors such as maroon, grey, black, brown, dark blue, and white.
Table covers of different sizes can be purchased.
Hand Embroidered Letter Hanger
Hand Embroidered Letter Hanger
The tradition of hand-embroidered letter hangers is ancient.

In the past, people have embroidered fabric files and covers to keep the essential paper pieces.

Fabric letter hangers are quite famous in the offices and homes of Sindh.

In offices, it is used to keep important papers, and at home, it is used to keep bills and mail.

Sindhi letter hangers are stitched of cotton fabric and have square and circle patterns thread design with mirror work.

The centerpiece of the letter hanger has amusing character embroideries such as camels, parrots, canopies, peacocks, lions, and deer.

One will be surprised to see that these characters are embroidered by women of rural Sindh who never attend any art class.

These skillful women are learning this craft from their mothers and keeping it alive through practice.

Usually, a letter hanger has three divisions to categorize letters.

A Sindhi hand-embroidered letter hanger gives a lively touch to a boring office.
Sindhi Embroidery Door Hanging – Vintage
Sindhi Embroidery Door Hanging – Vintage
If your room door or entrance door is not fancy and welcoming.

In that case, you need a vintage Sindhi embroidery door hanging.

It gives a traditional and artistic look to your door, and it is quite stylish and in fashion.

Sindhi door hangings have a patchwork of different colors with thread embroidery of dark colors in contrast to the base patch fabric colors.

Embroidery is decorated with mirrorwork and laces.

Sindhi door hanging has a long rectangular shape main patch, which is equal to the width of the door, and has a number of small rectangles protruding outward from the main patch, forming a comb shape.

The borders are decorated with hanging thread balls or lace.

In Sindh, door hangings are so common, but it is not as famous in Punjab.

This door decoration is famous in Cold and hilly areas.

You can also hang these to have a welcoming entrance to your home or room.
Handmade Fancy Roti Plate
Handmade Fancy Roti Plate
Do you ever have a meal on a plate made of plastic pipes or wheat straws with colorful embroidery of threads and mirror work?

These plates are also known as Dabkis.

These fancy plates are used by rural families on special occasions, and they also hang on walls as decoration pieces.

In urban areas, these fancy embroidery plates are used at traditional festivals and exhibitions.

These fancy plates look like a rainbow in a dish.

Sindhi rural women collect wheat plant stems and place a heavy weight on them to press them.

Artisans turn them into a plate, then decorate them with wool threadwork, beads, mirrors, and pearls.

These plates are 100% made of organic material and are not harmful to the environment like plastic plates.

Sindhi handmade plates are best for serving dry food such as roti, nana, chapati, bread, fruits, dry fruits, etc.

You can gift these plates, which are created by skillful Sindhi women.
Sindhi Ajrak – Hand Mirror Work
Sindhi Ajrak – Hand Mirror Work
Ajrak was dyed at the banks of Mohenjo-Daro with an indigo color for centuries.

The patterns on Ajrak are made by block printing with natural dyes.

The patterns and designs of motifs on Ajrak indicate the whole Indus civilization.

Still, artisans dye Ajrak indigo, but other colors are also invaded in this craft.

To give a fancy and colorful touch to the traditional Ajrak mirror work is done on them in balance with geometric patterns.

Mirrors are surrounded by multicolor threads, which gives Ajrak a fresh and lively look.

As Ajrak is an essential part of Sindhi people, "cradle to grave" is best suited for Ajrak.

So, people keep adding new patterns and designs to it to keep it original.

Hand mirror work Ajrak is never out of date even with mirror work.
Glass Bangles
Hyderabad of Sindh is the hub of this craftsmanship.

The process of making glass bangles is extremely exhausting.

It consists of more than a dozen stages, and each stage is carried by the hands of very skillful artisans.

Experienced and skilled artisans are required to make glass bangles, and mostly women provide this service.

It is not an exaggeration for making a single glass bangle, 25 artisans are involved.

Firstly, women collect discarded glass pieces that serve as raw material then glass pieces are melted at a high temperature, which turns them into a red substance.

Then this viscous substance is rolled around a round cylindrical shape, which converts it into a circular shape.

After adding glossiness, women joined the opposite ends to form a ring.

Then crystals beads and hand, painting are done on these bangles.

Glass bangle artisans are proud of their craft, but the reality is that behind these mesmerizing crafts are the cuts and marks of glass on their arms and hands.

Beautiful mirror bangles are famous all over the world, and especially Asian women are wearing them for centuries ago.
Sindhi Patchwork Cushion Covers
Sindhi Patchwork Cushion Covers
Patchwork needs a lot of patience and time. Its stitches need care and love.

It is the best way of recycling unused fabric pieces.

Firstly, fabric pieces of rectangle or triangle shapes are stitched together by Sindhi women artisans, then a border with a chain or satin stitch is made around each piece.

Then each small piece of 3-4 inches is embroidered with detailed threadwork, and each patch has different threadwork of different colors.

To give a glamourous look patchwork mirrors are also embedded in it.

Then square-shaped cushion covers are stitched from this.

These artistic covers can be gifted to your loved ones.

A colorful cushion with your light colored sofa is a perfect match.
Sindhi Patch Work Bed Covers
Sindhi Patch Work Bed Covers
The perfect way to add attraction to your bedroom is with a unique artistry bedsheet.

Sindhi patchwork bed covers are famous in Pakistan.

People gift these bed cover on marriages to their friends and relatives.

A patchwork bed sheet on a king-sized bed adds more beauty and royalty to it.

A handmade patchwork bed sheet always stands out due to its alluring patterns and printed style embarked on it.

These bed sheets provide you with perfect sleep because they are made of 100% cotton fabric, which facilitates the perfect aeration.

The handmade Sindhi patchwork bed sheet patterns are shrinkage-resistant, and colors are fade-resistant, which makes your bedsheet look good even after many piles of washing.
Share Sindhi Crafts
Shindi crafts are great to see but even better to wear. Share this page with your friends and social media followers so they to enjoy the work of traditions of the Pakistani culture in the form of Sindhi handicrafts.
Sindhi Craft Comments
Leave your Sindhi crafts comments below, we are eager to read your experience and enjoy your story of purchasing Sindhi crafts online and the enjoyment received once given to the one you love.
In case your story is really marvelous for anyone to read then contact us and send this story to us and we publish it as soon as possible.