Pakistani Artisans Camel Bone Handicrafts
For centuries Pakistani artisans have used both ivory and camel bone to create unique handicrafts. The ivory trade has legally stopped and that means that camel bone artifacts are flourishing.
There are several reasons why artisans use camel bone to create camel bone handicrafts so beautiful that you can see that you need a lot of skills to create them.
Camel's bone is denser than cattle bone, and thus it's harder and tougher which makes it great for knife handles for example but it also takes dye and stabilizing compounds differently, giving it its own unique character.
Bone is known for its steadiness and durability, and it's been used in making antique handicrafts for centuries.
Artisans use camel bone and skin for making a variety of consumer goods including fancy and decorative items. Camel dung is good organic manure and fuel. Camel is also gainfully utilized in riding and racing.
Camel's meat, and marketing camels as draft and game animals are of economic importance. Camel bones are a major raw material for assembling jewelry all over the world. Ivory has been replaced by camel bone after it was banned.
Long bones of Camel are used for making fancy and decorative items. It has the same potential as ivory at less cost. Camel's bone is the best alternative to ivory because it is allowed to use all over the world.
Some of the most striking and attractive handicrafts of Pakistan are those made of camel bone. Bone being a long-lasting material is a good element to put into making articles of utility and leisure. Since the use of an elephant's bone to produce items is constrained in most areas.
The camel bone handicrafts are used as a perfect substitute for this purpose. These products highly resemble ivory products.
Camel being an animal of the desert is easily available in areas surrounded by deserts and is a common source of food for locals therefore the craft of making products from camel bone for both, beauty and usage are made as a source of earning bread in these areas.
Camel bone handicrafts are becoming more popular day by day due to the cheap cost of their raw material and beauty. All over Pakistan artisans are playing an important role in enhancing the civilization and cultural richness of Pakistan but especially Multan has a prominent entity in antique handicraft of camel bone.
Not so far, quite 20 arts and crafts were considered the hallmark of Multan. Saddle Making, Jewelry, Bangle Making, Blacksmith, Masonry and Wood Crafting, Dyeing, and therefore the list goes on. Now some crafts are a part of history some of them are on the deadline. All these crafts have a particular connection with Multan, rather it is also known as the nursery of all these crafts.
To see this gloomy situation, visit the Art & Craft Bazar of Multan situated beside the fort or attempt to locate traditional craftsmen families living in localities of the old city. In 2003 a devoted craft market was established near Ghanta Gahr in Multan, but it could last only for a few years. In 2006 the old craft bazaar was demolished for the extension of the road and the craftsmen had to shift to the shops under Qasim Bagh stadium, along with the fort.
Worldwide Demand for Camel Bone Handicrafts
Pakistan is indeed prosperous with such art and the person from all over the world admire this art too, but due to the war on terror in the last number of years, there is a defeat of tourists. The visitors brought these pieces to their home country, which promotes the culture and history of Pakistan.
Camel Bone Handicrafts Making Process

The manufacture of camel bone crafts required a while, and therefore the blue pottery or naqashi thereon required tons of attention. It is the progression that required 3 people Dabgar, Clayman, and Naqash, their efforts, and expertise make the raw material into an exclusive still strong item.
Skin sanitizes
First of all, they clean the skin and dry it by putting salt on it, and after that wash it with a chemical to make it germ-free. The wash process has the phase that they commonly clean.
Carving
The artisan makes a raw base of china clay with his amazing art and attaches the camel bone onto it, then aside it for a period to let it dry commonly under the Sunlight.
Decorate
Well, the color or Naqashi footmark is a central one that desired a lot of attention that a single mistake can damage the entire piece.
Strong
The camel bone crafts have a long life about fifty to a hundred years, which required wax and covering on each step before investing in it, and the purchaser makes secure that it must last possible years or you tin says for a lifetime.
Highly Appreciated Handicrafts of Camel Bone
Camel Bone Lamps
These camel bone handicrafts lamps are incredible in appearance and are one of the unique handicrafts of Multan. The manufacturing process of these charming lamps includes the washing of the camel's bone first and then cleaning and molding it to the desired shape.
After attaining the right form, it's painted with different colors. One more reason for these lamps getting used is because the decoration pieces are that the Multani culture depicted on them.
Camel Lamp is a small masterpiece of dessert crafted from dried camel skin and bone in the deserts of Cholistan and Multan. Skillful artisans painted over it to create a unique craft not found anywhere else in the world. Light reflects through the porous camel skin to create an amiable shadow of the desert night.
Camel Bone Carving
Pakistani artisans are very good at carving camel bone handicrafts. They will make beautiful showpieces. They are very popular all over the world. Multan is considered to be the main home of camel bone carvings.
The artisans of Multan make it with great effort. It takes at least two days to make a piece. Camel's bone has to be cleaned and boiled before it can be carved.
The knee bone is the most commonly used. The carving of camel bone is famous all over the world. This is a very difficult task but it has become an example of its own and is the center of interest for tourists from all over the world.
Camel bone Tasbih (Counting bids)
The beads are wont to count the numbers of units of certain prayers and represent the 99 names of God and are a crucial part of Islamic spiritual life counting verbal remembrances of God. Making and employing a tasbih is an act of spiritual piety that ought to be undertaken seriously.
They come in wide variations in styles and settings, of lengths featuring 33, 66, or 99 beads but tasbih made from camel bone is very popular all over the world.
Camel bone tasbih (counting bids) is an antique creation of artisans. Small pieces of camel bone are used to make it.
Tasbih is a type of necklace and it is mostly containing 100 bids but it also has 33 bids. Commonly its length is 10 mm to 20 mm.
Camel Bone Furniture
Multan is always famous for craft and art. The camel bone decor furniture also has a special place in Multan craftsmanship. It is a testament to the skill of camel bone craftsmen and it shows the love of people for art.
The art of making furniture from Camel Bones is a unique state of Multan in Pakistan. Many cities make furniture but Multan is famous of all. The art of making these masterpieces is being passed from one generation to the next generation.
The Process of Camel Bone Furniture
The process of making furniture with camel bone is very simple. Firstly, all the camel bones are collected, and then the artist designs them the hand-carved and gives them a delicate and beautiful shape.
In the next step, these hand-carved pieces are affixed to the frames of wooden furniture very skillfully.
And then give them intricate patterns. And finally, in the last step, it fills around with an attractive colored resin background.
Thus, Craftsmen from Multan delicately shape remains of such camel bone into beautiful floral or different beautiful designs. Which is to be set into resins of an assortment of colors to make a visually gorgeous effect.
Apart from the furniture, many different items also can be made such as gift items, boxes, showcases, mirrors, tables, carpets, and rugs that would fit well under your "new" camel bone furniture but there are other items such as well, especially our women Pakistani Artisans of who many work in the embroidery industry.
These various types of camel bone furniture are not only sold within Pakistan but the people of Multan export around the world because of the massive demand for beautiful Pakistani products made out of camel bone.
Camel Bone Bracelet
Camel bone bracelet has a high rank in camel bone handicraft. It's looking very beautiful after completion. The camel bone bracelet inlaid with brass detailing and camel bone is very smooth polished and set in the bright white color of the bone.
The camel bone bracelet opens at one side so it can fit around all wrist sizes. Pakistani artisans made it in different colors that attract the buyer. It has a beautiful shin because each bracelet is handcrafted and polished by individual artists. Camel bone bracelets can be purchased from all over Pakistan but Multan is famous for it.
The knife handle is made of camel bone
The art of Pakistani artisans can be seen beautifully on a knife handle made of camel bone. They are made by artisans with great skill.
Two pieces of bone are used to make a knife handle.
The pieces are cut very skillfully in an excellent way. These pieces are shaped into a beautiful and strong handle.
An iron or steel blade is fixed between the two pieces of bone.
The handle made of camel bone enhances the beauty of the knife and thus increases its value of the knife.
There are two types of handles are made from camel bone.
Small Handles: In small handles, the handle is given a vibrant color which significantly enhances the beauty of the handle.
Large Handles: The large handles are a testament to the craftsman's craftsmanship. The handles are painted with great effort and skill in the form of small flowers and branches.
Camel Bone Birds
While the rest of the things made of camel bone are worth mentioning, if we don't talk about birds made of camel bone, it will be an injustice to the art of Pakistani artisans.
Many years ago, this beautiful art was made of ivory, but due to the danger of extinction of ivory, when ivory was banned, the art turned toward camel bone. Because camel bone was both cheap and readily available so, camel bone began to gain much popularity.
Skilled craftsmen skillfully carve camel bones into beautiful birds. Mostly camel bones are used to make pigeons, sparrows, and parrots. Craftsmen use camel's leg bone to make birds because the length of the leg bone is so long therefore it takes the form of a beautiful masterpiece. People buy this masterpiece to decorate their drawing rooms and offices.
Camel Bone Animals
Beautiful handmade animal sculptures by Pakistani artisans are very famous all over the world. These artisans cut the camel bone beautifully and put it in the form of various animals that are sold at very high prices. Camel's bone-made elephant is the most common animal in the world of handicrafts.
All artisans love to make elephants of camel bone. The two major aspects of taking interest in elephants are it has a high demand in Pakistan but also it has a huge capacity for export to neighboring countries. Indian people have a religious attachment to an elephant therefore it is highly demanded all over the world.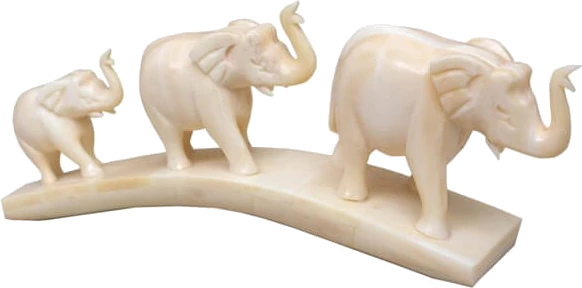 Camel Bone Pen
The camel bone pen is a very beautiful masterpiece of Pakistani artisans. It is very popular all over the world. People use it to give as a gift to someone special. At an earlier age, it was made of ivory, but after the ban on ivory, ivory was replaced by camel bone. Craftsmen use fine thin bones to make these pens. These are beautiful but low-cost gifts that are in great demand all over Pakistan.
Antique Handicrafts of Camel Bone
Camel bone handicrafts range from necklaces, and earrings to paper cutters, napkin rings, key rings, cigarette holders, decorative objects, and so on. Jumble-like necklaces, bracelets, and beautiful earrings are made using graded camel bone beads prepared on a hand lath.
The process of turning such beads is rather simple. A bone stick of the specified length and breadth, counting on the thickness of the beads to be contrived, is first sliced from the longest bone and slashed with a 'dossola' or a specially shaped ax.
The very next juncture involves the influence of beads out of this stick. Beads are joined into graded sizes with holes in the middle through which a flexible brass wire is passed to form necklaces, bracelets, and earrings. Beads of graded thickness are used to impart ornaments with beauty for which they are justly famous.
The arrangement of beads is such that the bigger ones occupy the center while smaller beads are placed on either side of them. All over Pakistan, in particular, Multan, and to some extent, Lahore is very famous for this amazing craft. The beauty of these handicrafts shows the love of artisans with their work.
Tribute to Artisans of Camel Bone
Camel Bone Artisans work with tremendous focus. The beauty of the art lies in its convolution. The machines used in this handicraft are frail, and very dangerous, and include grinders and shapers. They are sharper than the sharpest knives. The beauty of art depends on determination, and also courage, and also good lungs. The camel bone dust can be dangerous and is not easy to work in.
The artists of camel bone work in these dangerous conditions for many hours—sometimes almost 18-20 hours a day—creating the souvenirs. The camel bone is gathered from dead camels once the flesh has decomposed. The bones of the hip and legs are mostly used in handicrafts due to their hardness. The camel bone handicrafts are sent to the market and sold under auction.
Abdul Rasheed Qureshi
Abdul Rasheed Qureshi is a man of 70 years and has more than 60 years of experience creating camel bone handicrafts. Masterpieces in his store show the significant craftsmanship that he has performed for the last 20 years.
His father trained him in this craft when he was just 8 years old and he is doing it since then. Ustad Abdul Rasheed Qureshi has successfully attended many international exhibitions and big shows and won many prizes including 1st prize in bone carving from the exhibition in Berlin, Germany.
He has also conducted many workshops and crash courses in Pakistan and all over the world. He has good expectations about the bright future of craft and artisans as technology.
National Day Camel Bone Handicrafts Gift
A National Day is a time to celebrate many customs and traditions in your country. For Pakistani, the art of camel bone handicrafts is one of the most unique and cherished traditions. These intricate pieces are made by skilled artisans using only the finest materials. The finished product is truly a work of art, and it makes for a perfect National Day gift. Whether you choose to give a camel bone statue, vase, or other types of Camel Bone Handicraft, your recipient is sure to cherish it for many years to come.